People make the difference at Citizens Independent Bank! Our average length of service is close to 11 years. The reason? Our employees all embrace the core values of the bank: Honesty & Integrity • Community Social Responsibility • Exceptional Customer Service • Employee Growth • Financial Strength.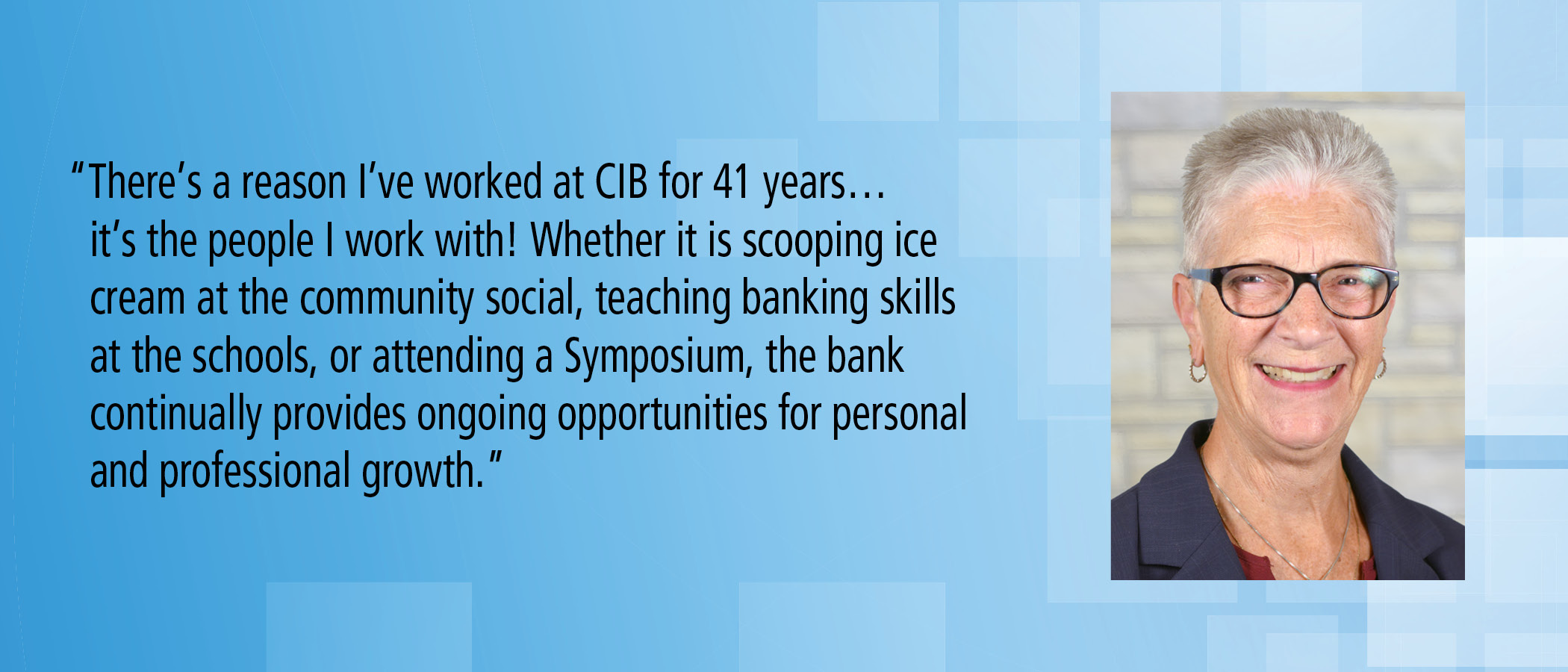 We put people first. Our clients, our employees, our families, our communities.
We want employees to have work that is rewarding and challenging.
We support a work-life balance.
We look to promote from within.
We support ongoing employee education.
We offer full benefits including medical, dental, vision, 401k with match, LTD and STD, and PTO.
We have convenient locations in St. Louis Park, Robbinsdale, Hopkins, and Plymouth.
We have a long history – 70 years and going strong!
We participate in fun community activities.
We want YOU to be part of the CIB team!
Our communities benefit from our employees, too. With many opportunities for volunteering, we hire the best to continue our core value of demonstrating social responsibility to the communities we serve. Join us to enrich your career and your community!
Benefits
We take care of our people. Whether you are beginning your career or you are an expert in your field, our benefits package is one of the most competitive in the Twin Cities. Our Group Insurance options include medical, dental, vision, life, PTO, and short and long-term disability. We also offer a generous 401(k) match.
To apply online, click the Apply Now link at the end of job posting.
Current Openings
Business Banker
Position: Business Banker
Location: St. Louis Park
We're growing our Business Banking Team! Citizens Independent Bank and its employees strive to maintain customer trust, demonstrate social responsibility to our Communities, build and maintain close customer relationships, encourage the personal and professional growth of each employee, and grow a strong financial base for ourselves and those we serve. These values drive our success and define the foundation of our business. We are seeking Business Banker candidates that will be excited to promote and support these values in the communities we serve. Join our growing team!
ESSENTIAL DUTIES AND RESPONSIBILITIES
This position is responsible for establishing new banking relationships with corporations, partnerships, individuals doing business, not-for-profit organizations, and associations. The incumbent must have complete knowledge of all commercial products and services including credit products, deposit/investment products, cash management, other commercial services, and the bank fee schedule. The incumbent is responsible for assigned floor duty to service walk-in customers, but also spends a significant amount of time out of the bank in the offices of existing clients, servicing existing business, developing new business, calling on prospective clients, and networking in various ways in the community. The incumbent should also be involved with a community organization that meets our CRA requirements.
This is a front line sales position for all commercial deposit/investment, credit, and cash management products.
Commercial business is brought into the bank through personal interaction of the Commercial Banker with the customer/prospect. The banker must match the product and service with the customer/prospect's identified needs and must carefully evaluate the amount of risk involved in entering into a relationship. The incumbent must understand the business/industry the customer is in and must gain a thorough knowledge of the customer/enterprise history and future plans. The loan administration unit has been organized to assist in the evaluation and approval process. Lending authority will be given to the incumbent based on their training and experience. Requests which exceed this limit must be approved by the Unit Manager or the Officers Loan Committee. Certain requests may require approval by the Directors Credit Committee.
The incumbent must administer all loans within legal and regulatory requirements, the bank's loan policy, procedure policy, and stipulations established by the Officers Loan Committee and Directors Credit Committee.
EDUCATION AND/OR EXPERIENCE
A college degree and/or 5 to 10 years of job related experience. The ability to motivate or influence others is a material part of the job requiring a significant level of diplomacy and trust. Obtaining cooperation (internally and/or externally) is an important part of the job.
Business Banking Associate Manager
Position: Business Banking Associate Manager
Location: St. Louis Park
The Business Banking Associate Manager manages, provides training, and supervises other Business Banking Associates that support our offices in Robbinsdale, Hopkins, and Plymouth. This position also requires this individual to be the Banking Associate at the St. Louis Park location providing loan document preparation and administrative support for the department. In addition, this individual opens all deposit products and related services associated with business and personal accounts in compliance with Bank & regulatory policies. Assists Sr. Vice President/Business Banking Manager with the overall administrative support of the Business Banking Department to achieve overall sales and production goals. Acts as product manager for business depository products and services.
NATURE AND SCOPE
This is a professional position, accountable for the complete, accurate and timely preparation of forms required to process all types of business and personal loans. This individual assists in preparing loan worksheets, pre-closing, post-closing & checklists for SBA Loans, Letters of Credit, Real Estate Mortgages, Working Capital Lines of Credit and term loans. This individual is accountable for filing documents, as applicable, with the appropriate governmental units within the county, state and out-of-state. This individual cross-sells or refers deposit products including cash management, loan products including overdraft protection, Home Equity and mortgages as well as all other bank products and services including investment services.
This is a front line sales position for new business and personal deposit relationships establishing checking, savings and certificates of deposit accounts. In addition, execute the various forms to add bank services such as ATM, debit/credit cards, Online & Mobile Banking, Merchant/Corporate accounts and Cash Management services. In this process, the individual must be knowledgeable in identifying all financial needs of the client and obtain the required authorizations and documentation to establish accounts and services. As Product Manager, this individual will survey the market, compile information, conduct cost analysis with data processing specialist, present recommendations to Product and ALCO Committees, and then prepare marketing ideas for promoting new business products.
RELATIONSHIPS
Within Citizens Independent Bank: Provide leadership and direction for Business Banking Associates, motivating them to achieve bank, unit and individual goals. Open and secures bank premises. Key player with Management/Management Council, Manager, Business Bankers and Business Associates. Interfaces with legal counsel, Data Processing, Customer Service, Personal Banking and Loan Administration.
Within the community: Will be called on from time to time to participate in community organizations and projects in an effort to gain additional business opportunities. Interfaces extensively with customers and the public in a manner that will enhance the overall marketing effort of Citizens Independent Bank.
ACCOUNTABILITIES
Interview, hire, train, coach, counsel and supervise the Banking Associates to ensure accurate and efficient operation of the Business Banking Department.
Conduct performance reviews of the Banking Associates according to established standards.
Meet with Banking Associates to ensure proper communication and motivation of staff. Provide established agenda, handouts & training tools.
Present and implement training programs with associates to develop knowledge of products and services.
Maintain vacation & absence requests providing adequate floor coverage as it relates to the Banking Associates.
Pay invoices relating to business loan expenses, i.e. attorney, recording, filings, etc. for all locations from established business checking account & balance register for accuracy.
Coordinate all Letters of Credit issued & those that have been cancelled for the bank. Execute all paper work involved in processing. Balance general ledger account monthly. Provide Board with Letter of Credit Report.
Compile, execute & distribute the month end reports, i.e. Delinquencies, Watch List, Technical Exceptions, Annual Review, etc. for various departments, officers & Board.
Establish banking relationships and execute opening all deposit products, i.e. checking, savings & CDs.
Identify and initiate sales opportunities and sell products and services to new and existing customers.
Complete & research items for lender loan worksheets, Pre-Loan Closing, Post-Closing, Document Imaging Checklists, Change in Terms, etc. to initiate processing for loan documents. Complete required tickets for debits, credits & general ledger accounts.
Assist department in copying & distributing Loan Presentations & Material Changes for the OLC Committee and the Board.
Approve & assist in completing International & Domestic Wires. Complete Wire Agreements & follow-up calls.
Participate in Deposit Committee Strategy meetings.
As product manager, analyze product operating & promotional costs. Complete various market surveys, make recommendations on business deposit & service products for ALCO approval.
Process/execute small loan requests within in lending limits.
Compile, execute & distribute monthly Sales Meeting Packets. Prepare Agenda, Pipeline, Metric Grid, Production, Call, DDA & Summary reports for Business Department and Board.
Update on a regular basis Business Banking Intranet website; i.e., Upcoming Events, ABA Newsbytes, Production & Eagle Award Winners. Also, update in website Procedures, Vendors & Resources for the department.
Distribute daily the "Loan Documentation Reports" to various lenders and associates. Follow-up on errors or omissions.
Complete document check list for all documents, attach & submit for imaging.
Monitor & follow-up on lender exception items. i.e., financial, insurance, etc., as well as updating Loan Documentation System with additions & deletions of monitoring items.
Compile, record information from Management Council & distribute minutes to members.
Complete "Incentive Payout" for cross-sells & compile referral information for Business Banking Dept.
Process "Paid/Renewed" notes on all loans, release collateral & execute appropriate termination & satisfaction forms.
Approve checks for encashment.
Process line of credit transfers, pay downs, pay offs for the business unit.
As member of Business Continuity Recovery Team, record functions, responsibilities, recovery tasks & impact as well as update any changes to the business plan.
Perform all Banking Associate duties.
MINIMUM QUALIFICATIONS
College degree or equivalent experience, preferred
Four or more years of banking experience
Knowledge of loan documentation preferred
Experience with Jack Henry 20/20 and Laster Pro helpful
Ability to easily adapt to changing technology, processes, regulation and procedures within the financial industry
Ability to read, analyze, and interpret general business periodicals, professional journals, technical procedures, or governmental regulations. Ability to write reports, business correspondence, and procedure manuals. Ability to effectively present information and respond to questions from groups of managers, clients, customers, and the general public.
Ability to calculate figures and amounts such as interest and percentages.
Loan Operations Specialist
Position: Loan Operations Specialist
Location: St. Louis Park
The Loan Operations Specialist is responsible for various activities relating to the processing, servicing, and administration of loans for all Citizens Independent Bank branch locations. The Specialist is responsible to verify and ensure that loans are being properly documented in accorance to compliance and applicable laws, regulations, and Bank Policy. The Specialist provides support and assistance to meet the needs of the external and internal customers.
ESSENTIAL DUTIES AND RESPONSIBILITIES
Prepare accurate loan documents utilizing the 20/20 and Laser Pro software for Commercial, Commercial Real Estate, Construction, and Consumer loans
Prepare and process renewals and extensions as requested
Preview documentation prior to loan closing to ensure accuracy and completeness
Obtain documentation necessary to perfect a lien, clear a real estate title, file a lien, or any other documentation requirements necessary to facilitate a loan closing
Review loan after interfacing with the 20/20 system to ensure documentation accuracy
Ensure loan documentation is delivered to and received from lenders in a timely manner
Provide support and assistance to external and internal customers
Assist with daily reconcilement of loan applications
Review and distribute various reports in a timely manner
Review and process all loan payments for the St. Louis Park branch
Process all loan and overdraft protection maintenance as requested and review previous day daily work for accuracy
Review and process paid off or renewed promissory notes and lien cards
Prepare and process monthly remittance payments for Participations
Prepare and process Freddie Mac loans for delivery
Process loan payoff payments for Freddie Mac, Residential Real Estate, Charge offs, Nonaccruals, and Participations
Maintain general knowledge of Commercial, Commercial Real Estate, and Consumer loan products
Maintain knowledge and understanding of Bank's Loan Policy and Credit Administration Procedures and perform all responsibilities according to these guidelines
Other duties as assigned
SECONDARY DUTIES AND RESPONSIBILITIES
Provides back up to department manager as needed
MINIMUM QUALIFICATIONS
High school graduate or equivalent
College degree or equivalent experience, preferred
Four or more years of banking experience
Knowledge of loan documentation preferred
Experience with Jack Henry 20/20 and Laster Pro helpful
Ability to easily adapt to changing technology, processes, regulation and procedures within the financial industry
Our company is an Equal Opportunity Employer/Disabled/VETS/Affirmative Action Employer. Applicants can learn more about the company's status as an equal opportunity employer by viewing the federal " EEO is the Law" poster, its " Supplement" poster, and its " Pay Transparency Nondiscrimination Provision."